(MILAN, Italy / HEERBRUGG, Switzerland, 22 April 2020) – Leica Geosystems, a Hexagon company, and Geomap, a cloud and GIS-based Integrated Workplace Management System (IWMS), are pleased to announce global cooperation to support customers in the digitalisation of their facilities and asset support services.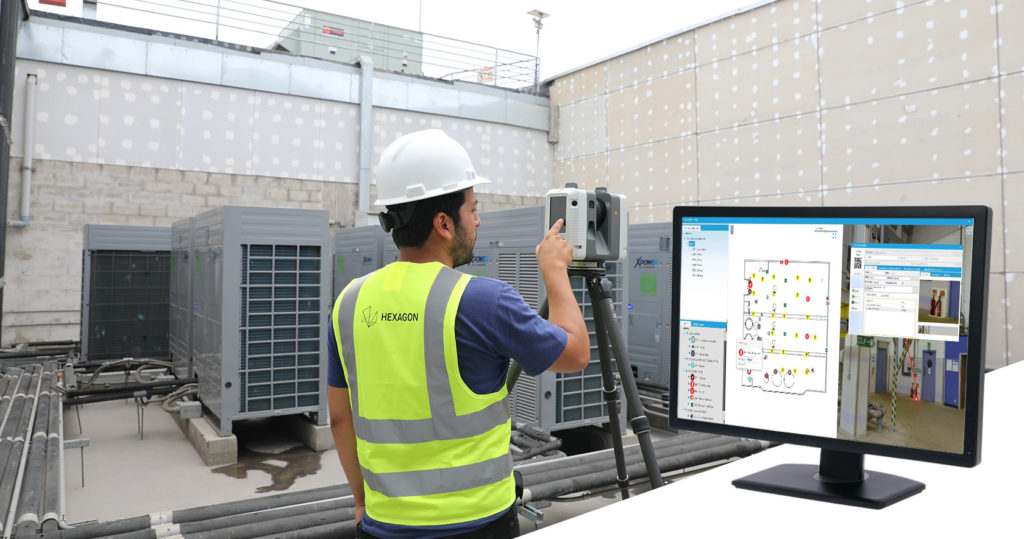 Geomaps' IWMS platform integrated with Leica Geosystems' reality capture solutions, provide customer the ability to extend the life of mission-critical assets, assess maintenance remotely, provide managers accurate and reliable information and use geospatial information for indoor navigation and location-based services. Digitising building portfolios in the Geomap IWMS software solution has significant benefits on asset and maintenance tracking and cost savings.
"The integration with Leica Geosystems technology offers a unique solution to manage buildings, related assets, and maintenance activities in 3D," said Andrea Paglialunga, Business Development Manager at Geomap. "We are a long-term user of Leica Geosystems solutions, and we are excited to take the relationship a step further, where both companies will benefit from a user-friendly solution that gives, the opportunity to connect digital twins in a cloud IWMS platform".
Leica Geosystems' solutions are part of the Hexagon Building Solutions portfolio, that delivers value to its customers in the building industry through an innovative portfolio of information, collaboration, and visualisation technologies. Leica Geosystems and Geomap ensure that customers can quickly and easily digitally capture the physical environment allowing them to proactively manage current and future requirements.
"Building owners and operators rely on their service partners, digital solutions and services to help build strong and effective automated processes", said Fabio Ponzio, Vice President of Hexagon Building Solutions. "Geomap and Leica Geosystems provide their customers in the field and the office with best-in-class reality capture and IWMS solutions and services. We are excited to announce our partnership and look forward to enabling our customers worldwide to leverage the power of digitalization in their daily environment."
About Geomap – shaping together new standards for Facility and Asset Management
Geomap is company operating worldwide providing IT solutions for facility, asset and real estate management.
Established in Milan in the late '90, over the decades the company has grown and specialized to reach its actual position as leading company in streamlining the management of real estate, infrastructure and facilities through advanced software and services.
Geomaps' IWMS currently has over 25M sqm under management.
Discover more at geomap.cloud and follow us @Geomap
Leica Geosystems – when it has to be right
With more than 200 years of history, Leica Geosystems, a Hexagon company, is the trusted supplier of premium sensors, software and services. Delivering value every day to professionals in surveying,  construction, infrastructure, mining, mapping and other geospatial content-dependent industries, Leica Geosystems leads the industry with innovative solutions to empower our autonomous future.
Hexagon is a global leader in sensor, software and autonomous solutions. We are putting data to work to boost efficiency, productivity, and quality across industrial, manufacturing, infrastructure, safety, and mobility applications.
Our technologies are shaping urban and production ecosystems to become increasingly connected and autonomous — ensuring a scalable, sustainable future.
Hexagon (Nasdaq Stockholm: HEXA B) has approximately 21,000 employees in 50 countries and net sales of 3.9bn EUR. Learn more at hexagon.com and follow us @HexagonAB.
For further information please contact:
Geomap 
Andrea Paglialunga
[email protected]
T: +39 338 6207319
Hexagon Building Solutions
Penny Boviatsou
[email protected]
T: +41 41 727 8960