As professionals across all industries adapt to the new challenges presented by the consequences of the pandemic, the push towards digitization, improved collaboration, and streamlining workflows has never been more crucial. From digital tools that allow for critical infrastructure projects to continue while keeping employees distanced and safe, to those that facilitate live collaboration on complex projects from anywhere, the crisis of the pandemic has brought forth a wave of creativity and innovation. The SPAR 3D and AEC Next conference content in 2021 will explore and highlight what these changes and innovations mean for architecture, engineering, and construction professionals of all types.
This year, there will be special emphasis on sessions that highlight the technologies that industry professionals will use to work in the future: virtual collaboration, digital twins, interactions in VR environments, advances in automation, and more.
In this rapidly-changing market, education is critical. At AEC Next and SPAR 3D, we carefully develop conference topics in cooperation with an Advisory Board of esteemed professionals and thoroughly vet prospective speakers. Our goal is to provide outstanding, actionable information on the critical issues industrial users face integrating or operating technology and to provide a glimpse at what's coming next.
AEC Next and SPAR 3D will take place in Denver, CO, March 30 – April 1, 2021. Interested parties are invited to learn more and submit their presentation abstracts. We also encourage you to check out out full line up of Virtual Content for the remainder of 2020.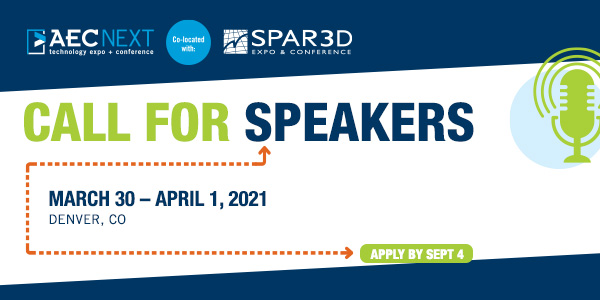 [gdlr_button href="https://www.aecnext.com/2021-call-for-speakers/?utm_source=newsletter&utm_medium=marketo&utm_campaign=aeceditor" target="_self" size="medium" background="#FF8C00″ color="#ffffff"]LEARN MORE AND APPLY[/gdlr_button]